Watching movies at a movie theater is always a delight. EMAX and IMAX theaters are two of the famous theaters to watch movies. 
But choosing the right movie theater between these two theaters can be a hassle. 
So, what's the suitable option for you between imax vs emax?
While both IMAX and EMAX deliver a good viewing experience, there are a few differences. IMAX has a bigger screen, better quality, and is more available. On the other hand, EMAX is the cheaper option and has a better aspect ratio and sound quality. Although EMAX theaters can be hard to find, IMAX theaters are widely available.
That's not all the information. Read till the end to know all the critical details for choosing between the theaters!
Table of Contents
IMAX Vs EMAX: a Brief Overview
Before heading into the main comparison, a short overview will help you look at the bigger picture. Here's a chart containing all the differentiating factors between IMAX and EMAX-
| | | |
| --- | --- | --- |
| Factors | IMAX | EMAX |
| Aspect Ratio | 1.43: 1 | 1.9: 1 |
| Film Format | 15 – 65 nm | 35 mm |
| Sound System | 12 – channel | Dolby Atmos |
| Screen Size | 79 ft Wide, 59 ft Tall | 94 ft Wide, 40 ft Tall |
| Availability | More | Less |
| Cost | More | Less |
The key factors should be clear to you by now. It's time to know more about these factors. Read along to know more.
IMAX Vs EMAX: an Elaborated Comparison
Now, let's dive into the details of the factors mentioned above. Below, I've discussed in-depth about these factors, give it a read!
Aspect Ratio:
The aspect ratio is the ratio of the width to the height of an image or screen. The more the aspect ratio, the better. 
IMAX has an aspect ratio of 1.43: 1 whereas EMAX has an aspect ratio of 1.9: 1. Wider aspect ratios enables a wider field of view and are especially useful in films with expansive scenes or panoramic landscapes.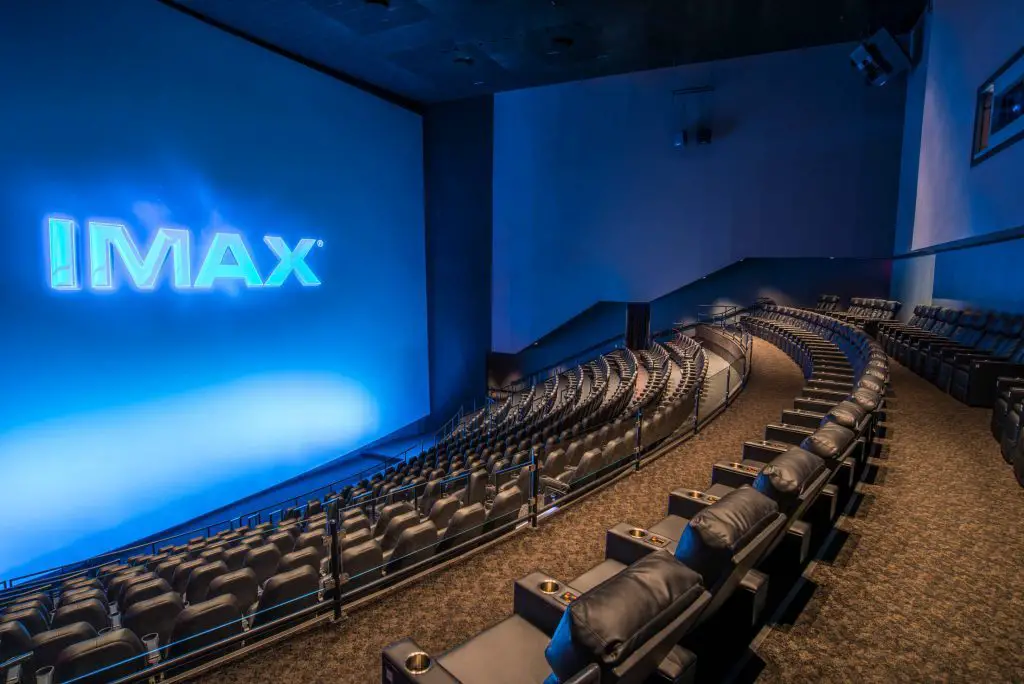 Verdict: In terms of aspect ratio, EMAX has the wider and better aspect ratio.
Film Format:
The film format of theater dictates the quality of the image quality. Each film format delivers different image qualities. 
EMAX uses a film format that is 35 nm. Although it is a wide enough film format for good quality, it's still worse in comparison. The differences in the film quality are also evident in different projectors like Epson 4050 and 5050.
On the other hand, IMAX uses a film that is 15 – 65 nm. This is far wider than the EMAX's film format. As a result, it allows more sharpness and detail in the image quality IMAX.
Verdict: In terms of film format, the IMAX has a wider format which allows for greater quality. 
Sound System:
The sound system defines the quality of the different theaters. The IMAX vs EMAX have different sound systems.
IMAX uses a 12-channel sound system. The standard sound system is 7.1 surround sound and 12-channel sound is better than that. This is a reason why IMAX is worth it.
On the other hand, EMAX uses a Dolby Atmos sound system. When compared to the sound system of IMAX, it sounds a lot clearer and better. The Dolby Atmos sound system provides an immersive sound experience.
Verdict: When it comes to the sound system, EMAX has a better sound system than IMAX.
Screen Size:
The height and length of a screen is the screen size. If the screen size is big, it ought to cover more areas of a movie!
EMAX has a screen size which is 40 feet tall and 96 feet wide. Although it can cover a lot of space on the horizontal aspect, it lacks on the vertical side.
In the case of IMAX, the screen covers 79 feet in width and 59 feet in height. IMAX's width is a bit less but its height is greater than EMAX's screen height.
Verdict: IMAX has a bigger screen size than EMAX, that's why it covers more of the projection.
Availability:
Both IMAX and EMAX are available throughout the country, but one is more than the other.
There are about 1,700 IMAX theaters throughout 80 countries. On the contrary, EMAX only has a few theaters available.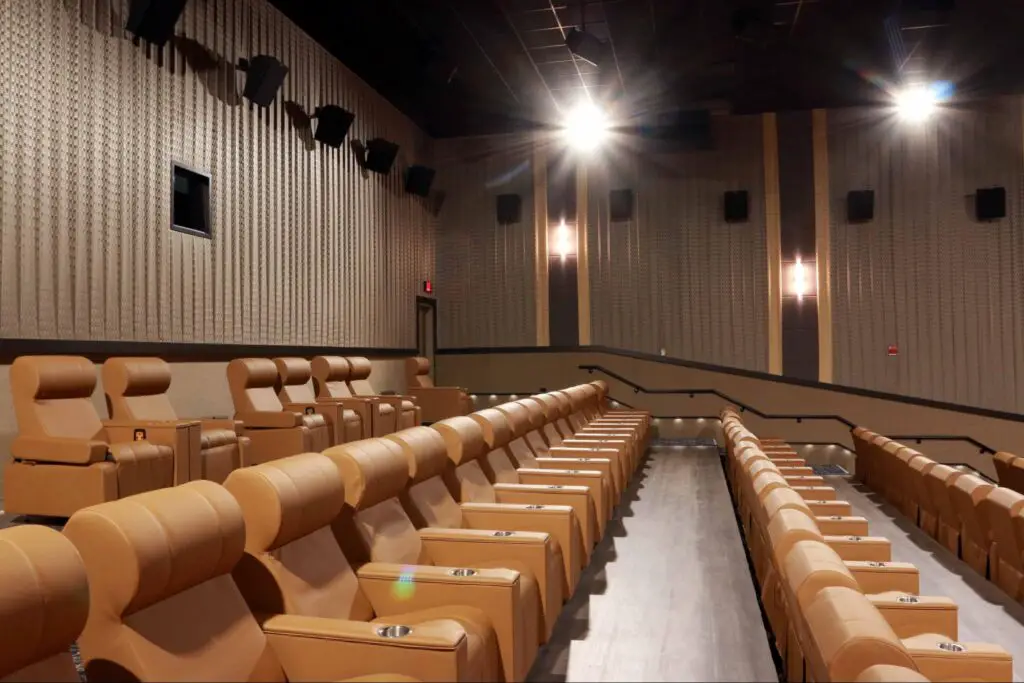 The count of EMAX theaters is much less than IMAX theaters. The availability of EMAX theaters is similar to the availability of projector screens by Tupplur. 
Verdict: IMAX theaters are more available than EMAX theaters, throughout the countries.
Cost:
The pricing of tickets is different for IMAX and EMAX theaters. Watching a movie in an IMAX theater can be costly. Due to the tremendous experience, IMAX theaters are expensive.
On the other hand, the EMAX theaters are cheaper than the IMAX theaters. Despite it being inexpensive, EMAX theaters do provide a good audience experience.
Verdict: When compared to EMAX, IMAX is much more expensive in terms of pricing.
Read also: Dolby Cinema Vs XD
IMAX Vs EMAX: Which One is the Better Option for You?
If you're planning to watch a movie on a big screen that has excellent quality, go with IMAX. IMAX theaters will ensure the visual satisfaction that you need with wide film formats. You can also find IMAX theaters more often.
However, the quality of the sound and the aspect ratio is lower in comparison with EMAX. Moreover, it might be a bit pricey.
On the contrary, pick EMAX if you're looking to watch a movie in a theater that's on the inexpensive side. Moreover, the aspect ratio and sound quality of EMAX theaters are far better than IMAX theaters. 
But the screen size is smaller and the availability of EMAX theaters is lower than IMAX theaters. Also, the film format is narrower than IMAX's film format.
Frequently Asked Questions (FAQs):
What is higher than IMAX?
Dolby Cinema has a higher viewing experience than IMAX. The enhanced audio channels and sound and visual capabilities easily surpass IMAX. The surround sound experience really helps to enjoy the quality of movies.
Does IMAX need glasses?
Not all IMAX movies will require glasses. Regular movies can be watched without glasses. However, IMAX 3D movies will require glasses. The glasses will be provided at the IMAX theater as a loan. After the movie ends, the glasses will have to be returned. 
Is the IMAX camera costly?
Yes, IMAX cameras are very costly. Along with being expensive, the IMAX cameras are also pretty rare. It's possible to rent the IMAX cameras, but it costs around 16,000 dollars each week.
Endnote
That's all for now. Hopefully, now you know which one is better for you between imax vs emax.
Everything boils down to your personal choice. If you're not comfortable with any of these theaters, you can opt-in for a different theater.
Good luck!
Read also: Cinemark Vs AMC