Is IMAX worth it? IMAX is recommended by movie fanatics for its high image resolution and luxurious atmosphere. It is worth exploring to witness the film come to life with IMAX's futuristic technology.
Even though IMAX has been around for decades, it still remains an unknown, ill-defined entity to the layman.
The ticket price is considerably more expensive than the regular theatre which makes one wonder if it is worth watching a movie at IMAX.
The high ticket price is for the impressive audio-visual quality that IMAX offers to make a film feel like an experience.
Is IMAX Worth it?
Over the years, the cinema world has changed dramatically with the invention of new tools and formats.
Currently, there are multiple movie format options available to moviegoers, IMAX being one of the popular ones. There are a lot of things that make IMAX worth the time and money.
As the name suggests, IMAX (Image Maximum) having an aspect ratio of 1.43:1 projects a considerably taller image than other movie theaters. Moreover, these theaters are outfitted with the latest image optimization and sound technologies.
The state-of-the-art technology coupled with architecture and a luxurious atmosphere offers a movie-watching experience like no other.
It transports the viewer to the cinematic universe with the brightest, sharpest, and clearest images.
Moreover, the seating arrangement is upgraded to offer a comfortable movie-viewing experience. IMAX does not have recliners.
It is worth the price hike as once you attend a film at IMAX, you would not like viewing movies at a regular theater.
It is worth every penny to watch entertainment content in IMAX for an unmatchable experience.
What is Unique About IMAX?
There are several elements that make IMAX stand out from the other film formats. Primarily, IMAX's larger-than-life display captivates the attention of cinema-goers. Not many theater technologies offer massive screens excelling in both size and quality.
These theaters have an aspect ratio of 1.43:1 and theater screens generally measure to be 75×53 feet tall.
IMAX theaters have multiple stories and every audience is promised the same immersive experience.
In addition, IMAX uses 15/70 film stock meaning film strips have 15 perforations rather than 5. Also, theater seats face the screen so that each viewer gets to view the maximum resolution.
True IMAX theaters prove their worth while multiple theaters labeled as 'IMAX' do not provide the movie viewing experience that a viewer expects from an IMAX theater. LIEMAX has an average screen size and image quality similar to regular theaters.
What Makes IMAX Theater Different Than Standard Theaters?
Every IMAX theater is designed keeping an immersive and comprehensive experience in mind. There are several factors that make it different from traditional cinemas.
IMAX takes a lead over other cinema technologies owing to its gigantic screen, color accuracy, enveloping audio, and 3D immersive effect. With high-resolution cameras and projectors, the viewer is immersed in the action, the high-resolution quality makes it all feel so real.
Here is what makes IMAX theaters so unique
Dual Laser Projection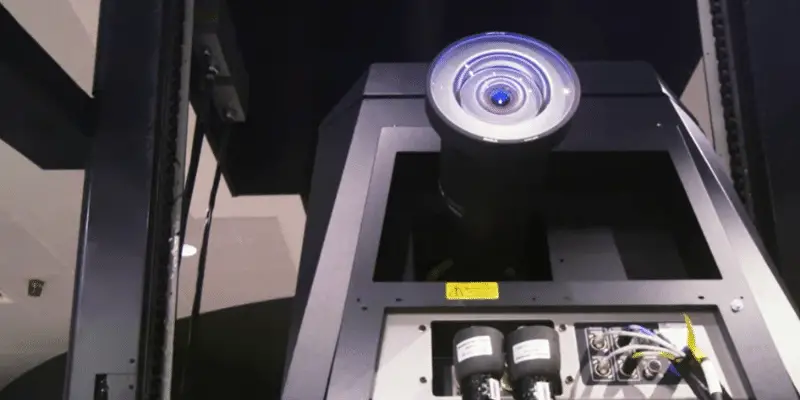 IMAX and Dolby Cinema are the only film formats that have dual laser protection setups. With two laser projectors, the image projected is vivid and sharp with deep contrast and high brightness.
The dual laser projection makes the experience more magical with its following attributes.
Brightness – Laser light is significantly brighter than xenon bulbs and other light sources for projecting clear and lifelike images. Conventional 3D glasses dim the brightness of the image, however, laser projection ensures substantial brightness in 2D and 3D.
Contrast – The difference between the darker blacks and brighter whites is termed contrast. It adds details to the image, making it feel more real, not like you are watching a movie. The laser projection technology offers a higher level of contrast and projects images with more details.
Color – With laser projection, filmmakers are free to use different and unique colors as it supports a wider color gamut. Audiences can see a vivid, lifelike image on the screen with outstanding color accuracy, exactly like the director envisioned.
In short, laser technology ensures heightened realism by projecting a clear and crisp image with no fuzzy outlines or blurry spots. It exceeds the expectations of all high-resolution fans by producing a real, crystal-clear image.
IMAX Digital Media Remastering
Several IMAX movies are undergone (Digital Media Mastering (DMR) to transform an already solid film into an IMAX movie.
The image and sound quality are enhanced for an immersive experience. Movies shot with other formats are remastered to make them suitable for the IMAX theater format.
3D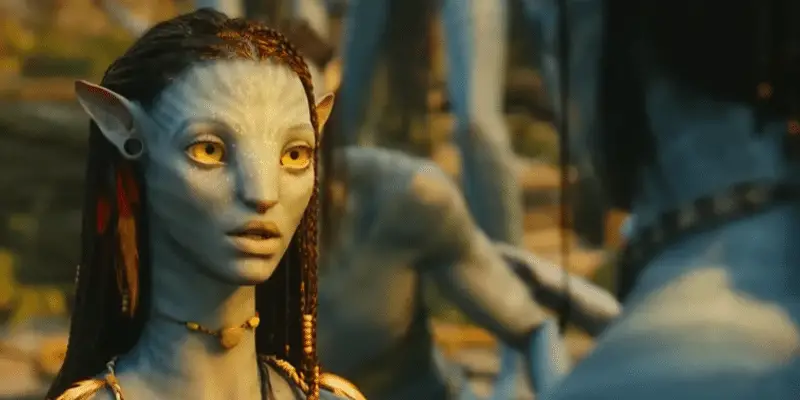 IMAX shows movies in 3D and is widely known for its high-quality, 3D image resolution. Instead of observing and viewing, the audience member will feel like a part of the action. It would be exactly the same as tagging along with Tom Cruise on his thrilling adventures.
As per research gate, IMAX's hyper-lifelike 3D is the most impressive feature of this format that compels moviegoers to buy the pricey ticket. It makes the audience feel like they are on set experiencing the action and emotions with no barrier between them. Comparing IMAX with Cinemark, this feature makes it better,
IMAX theater audiences have to wear polarized glasses for the showings. These glasses further enhance the experience with multiple effects. It also saves the viewer from dangerous rays coming from the screen. I watched Batman in IMAX and it was an excellent 3d experience.
Comfort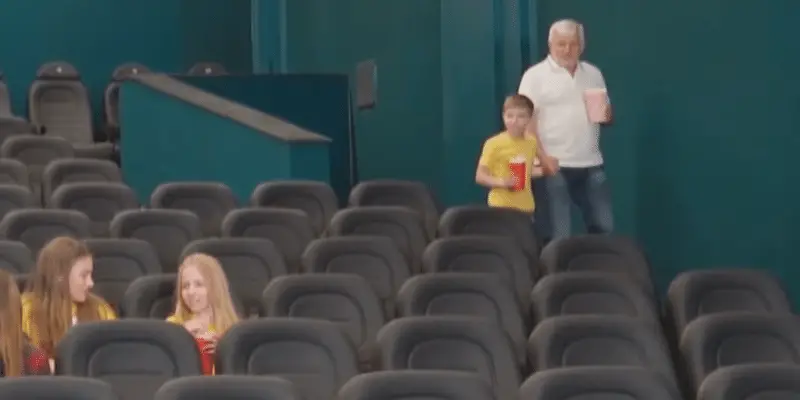 Besides the high resolution, IMAX also focuses on the seating arrangements and architecture. In real IMAX cinemas, the seats and their placement ensure comfort and flexibility.
Unlike standard movie theaters, the padded seats are not only comfortable but their arrangement promises an equal view to all viewers. Getting a seat in the middle will give an unobstructed view of the massive screen.
High Image Resolution
IMAX showings have more to do with the screen size than the pixels. However, that does not mean it shows an image in 1080p FHD or 4K resolution like regular theaters.
IMAX cinemas are designed with a supermassive screen that displays more than 40% of the image captured by the film camera.
Films shot with IMAX cameras often have an image quality of up to 16K. With such high resolution, a clear, crispest, bright projection is guaranteed.
Regular cinemas usually display movies in 4K while IMAX movies offer four times higher resolution than the standard theater.
Audio
Beyond razor-sharp images and massive screens, IMAX officials have worked to make the sound just as good as the images.
Speakers are installed in all directions to evenly distribute the sound so that each viewer hears well.
Considering the theater geometry, oversized speakers are installed at specific places to provide an optimized hearing environment.
The whisper-quiet air-conditioning system increases the output of the speaker.
The exclusive 12.1 channel 15,000-watt digital speaker produces crystal-quality sound.
IMAX sound engineers work 24/7 to monitor the acoustics and make sure that the sound system is creating an exclusive IMAX sound experience.
Screen Size
Most important of all, the IMAX screen sizes have been the talk of the town ever since the launch of this film format.
Not many film formats produce as large images as the IMAX without sacrificing the quality.
Normal theaters do not have supermassive screen sizes and limited resolution. On the other hand, IMAX projects an image six times bigger than the standard movie theater.
Instant Adjustments
A dedicated team works behind the scene to provide an uninterrupted, immersive experience. In case of keystone or audio distortions, these errors are fixed timely to make sure the audience has the best movie-viewing experience.
What Makes IMAX So Good?
Currently, IMAX theaters are available in approximately 68 countries and the company is planning to expand and open theaters in other countries as well.
Through word of mouth, more and more people are becoming aware of the incredible experience that IMAX has to offer.
When it comes to its key characteristics, gigantic IMAX screens come on top for projecting larger-than-life images.
In addition, the high image resolution, crystal-clear sound, laser projection, and DMR transports you to another world with an incredible level of detail.
Learn Related
Frequently Asked Questions (FAQs)
Is IMAX Worth the Price Hike?
All things considered, IMAX is worth the expensive ticket price for offering an experience like no other. IMAX is suitable for viewing 3D movies, however, if you are not a fan of 3D, Dolby Cinema should be your go-to place for a premium 2D movie experience.
Does IMAX Make a Difference?
Viewing a movie in IMAX is substantially different from the regular theater. IMAX displays movies in 4x higher resolution and 6x larger projection screens than the standard film format. The difference is significant and IMAX takes the lead in different departments.
Is IMAX Better Than a Standard Movie?
High resolution, deeper contrast, impeccable color accuracy, and crystal-clear sound make the viewer feel like experiencing the action in real life. It is considerably better to watch a movie in IMAX owing to the detail, clarity, and image size.
Conclusion
To sum up, it comes down to personal choice when determining whether or not it is worth it to watch a movie on IMAX. If you have never been to an IMAX theater, it is highly recommended to visit once and experience the magical display.