ViewSonic M1+ Portable LED Projector is a great pick for users looking for a battery-powered and portable movie machine. It is capable of powering spontaneous movie nights indoors and while on the move.
Furthermore, this iF award-winning, ultra-portable LED projector replaces the much-acclaimed M1 projector. While there are drawbacks, it compensates for its shortcomings with affordability, compact size, and decent picture quality.
This little device is a perfect traveling companion that can play multimedia content anywhere. If you have been thinking of investing in it, this detailed Viewsonic M1+ Portable LED Projector review will help you with the decision.
Viewsonic M1+ Portable LED Projector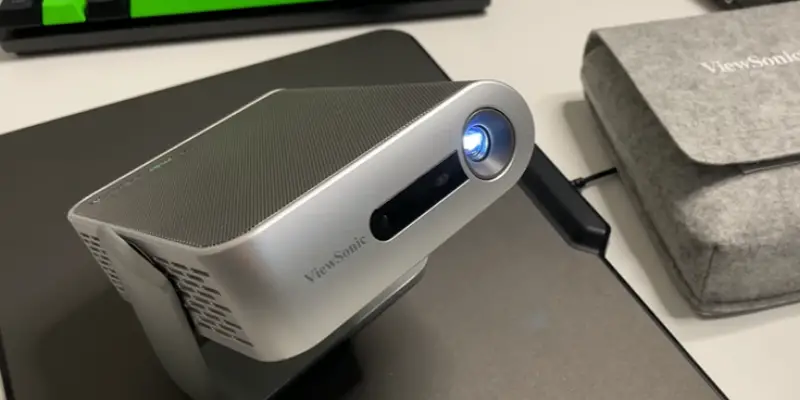 Since it is the new revision of the older ViewSonic M1 projector, you can expect several exciting updates.
Solid image quality, in-built battery, and long-lasting LED light source are all packaged in this tiny device weighing less than 1 KG.
Features of Viewsonic M1+
Here are some great and catchy features
Resolution
It has a native WVGA (854x480p) resolution which is quite sufficient for a battery-operated mural projector.
In terms of image quality, you will get a good image and convenient entertainment in nearly any living space.
Brightness & Contrast
It has 300 lumens brightness, therefore, you can only use it in a pitch-dark setting and a somehow good projector for Netflix. The projector has a high contrast ratio of 120000:1 for displaying details and ensuring image depth.
Again, this brightness and resolution are pretty fine for an ultra-portable, battery-powered projector.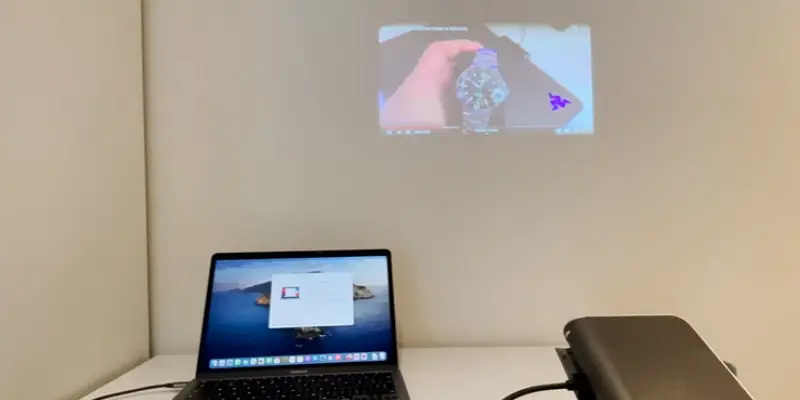 It does not have a short-throw design, therefore, you have to place it at an 8 ft 9″ distance to get a 100″ image.
Audio
Unlike most projectors, it has a surprisingly good sound thanks to the built-in dual Harman Kardon speakers. Besides, you can connect external audio devices easily using the Bluetooth connection.
Placement Flexibility
The integrated smart stand ensures 360° rotation to give you the freedom to place it at a variety of positions and angles. In addition, it has a vertical keystone correction to adjust the image on the screen.
Although battery runtime varies depending on the usage and projection mode, it can run continuously for 6 hours in full power mode.
It has a dummy-proof menu and Aptoide UI to download and watch from the popular streaming platforms.
Connectivity
It allows you to connect iPad, iOS, Android, Windows, Chrome and macOS, and gaming consoles through Wi-Fi, HDMI, and USB C. Wireless casting is also supported by the projector to mirror content from mobile devices.
As the name implies, this reflective technology is free from blue light and helps reduce eye strain, and comes best under 1000.
The integrated cutting-edge technology is brighter, quiet, immersive, and lasts up to 30000 hours.
Limitations of Viewsonic M1+
Low Lumens – The projector has 300 lumens which makes it only usable for dark spaces with no natural or artificial light.
Inefficient Aptoide Menu – The integrated app store is lacking in popular entertainment and music apps.
Pros and Cons of ViewSonic M1+
Pros
iF Design award-winning
Ultra-portable projection
Accurate colors with 125% Rec.709
Premium audio with dual 3W Harman Kardon speakers
Smart stand for easy placement and covering lens
Aptoide user interface
Wireless connectivity
Easy setup
Cons
Fuzzy text
Low native resolution
Should You Buy The Viewsonic M1+ Projector?
This incredible piece of technology can be pretty useful to travelers, movie buffs, and people with tight budgets. It packs a punch at a strikingly affordable price and offers features not usually available within this price range.
That being said, it is important to identify its prominent drawbacks as well. For instance, low brightness rating, incompetent Aptoide UI, and fuzzy subtitles or text.
Our overall impression of this impressively tiny device is that it is fit for fun impromptu movie nights, not much else.
Read also: Cinemark Vs AMC