Hundreds of companies are manufacturing and selling the best home theater projectors. Let's take a closer look at the Topvision 1080p Projector.
If you go on finding the best home theater projector for the room, frankly you would have to pick one from thousands of options. Since the competition is pretty high, almost all companies are continuously upgrading and bringing us the best home theater projectors.
Topvision is one of those manufacturers who happens to design and construct a reliable home theater projector.
A lot of Topvision home theater projectors have been ruling our hearts. However, what I liked the most from the Topvision creations is the 1080p home theater projector, Topvision 1080p Projector.
There might be some other reliable options that are being sold at a comparatively cheaper price. I chose to go for Topvision because the company has agreed to manufacture and sell the best home theatre projectors.
Topvision 1080p Projector Features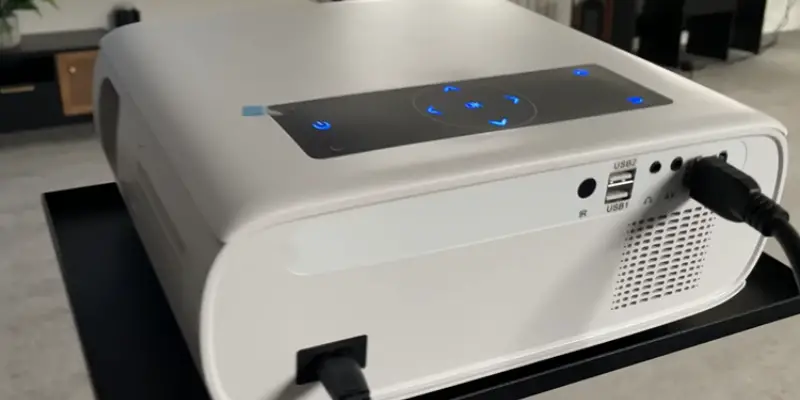 The Topvision 1080p Projector has got a pretty ordinary appearance. It looks almost the same as regular projectors.
It is probably because the company is focusing on improving the specs rather than designs. So, I must mention here that there are some pretty sleek and stylish projectors out there, if you judge the projector solely by its design or appearance you may not like it.
For the moment, ignore the design and encourage yourself to shift your focus to other important things.
Image quality
A projector should not solely be judged by its appearance, it rather should be judged by the image quality, lamp life, compatibility, and some other things.
Since projectors are made to project a clear, rich image on a big screen even in a dorm room, therefore if the image quality is poor none of the other things matter.
The Topvision 1080p Projector is preferred because of its breathtakingly clear and rich image quality.
It is called an HD-supported projector, therefore you can expect the projector to deliver real, dynamic, and color-vibrant projection image quality. Don't we all expect the same from our home theater projectors?
Lamp life
It's pretty hard to find a projector with impressive image quality and lamp life. We often compromise on lamp life to get a better picture.
Fortunately, this Topvision 1080p Projector does not require you to make a tough decision. It happens to have a pretty impressive lamp life; 80,000 hours. Yes! 80,000 hours.
Most projectors that have been sold at the same price can usually work up to 30,000 hours without requiring a lamp replacement. That's the second-best part of this Topvision deal, the first was the supernatural image quality.
Connection type
As the Topvision 1080p projector is designed and constructed to be the best home theater projector, the projector supports both wired and wireless connections. If you do not want to play with wires or adapters, the connection can be established wirelessly.
Speakers
Fortunately, the Topvision 1080p projector comes with built-in speakers. The speakers are powerful enough that you do not need an additional external speaker to fetch quality sound.
Supported screen
Most home theater projectors usually light up a 100 to 120″ screen. However, the Topvision 1080p home theater projector is capable of lighting up a screen up to 240″.
Compatibility
As far as compatibility is concerned, the Topvision projector is highly compatible with laptops, smartphones, tablets, etc. You can connect it to any of the options given above and enjoy.
Price
Just because the Topvision projector is superior to most of the home theater projectors do not expect it to be a bit expensive as well. It is being sold at just $69.99. Isn't the price amazing as well?
Is the Topvision 1080p worth it?
Yes, the Topvision 1080p is worth the price. It delivers better pictures, has powerful speakers, has impressive lamp life, supports a bigger screen, wired and wireless connection, and happens to be a cost-effective solution as well. There may not be any better option being sold at the same price.
Lastly, I would like to mention here that everyone's requirements are different. Whenever you have to find a suitable projector, list down your needs first, do read the reviews but do not solely rely on them. Find a suitable option yourself.
Top vision 1080p is categorized as a home theater projector. It happens to be the most forgiving option as the 1080p has a highly impressive picture quality, powerful speakers, and lamp life.