If you are looking for a mid-rang, high-performing unit, the BenQ HT2050A projector fits the mold perfectly. Although most projectors within the range of $500 to $1000 are nearly identical to each other, BenQ HT2050A is a bit different.
Appealing looks, curvy design, bright picture, deep contrast, and lens shift are some of the attributes that describe this stunning projector. However, any buyer would want to make sure that it is worth the hype.
To that end, we have given a full scoop on this projection unit to help you understand what makes it so popular.
BenQ HT2050A Review
It offers a solid image, better color, and contrast than its counterparts available within this price range. The cherry on top is the vertical lens shift which is almost non-existent in affordable projectors under 1000.
In short, it offers value for money and has the following features
Features of BenQ HT2050A
Here are quick features and my experience with this projector
Resolution
Treat your eyes to brilliant visuals with native Full HD 1080p resolution. It ensures the finest picture quality with amazing detail, crispness, and clarity. 1080p visuals bring tiny details to the screen for an immersive cinematic experience.
It projects a sufficiently bright image with 2200 lumens, however, better suited for dark rooms and home theater settings.
In addition, it has a decent contrast ratio of 15000:1 that projects a solid image without losing any important details.
Color Accuracy
The projector displays images with stunning colors thanks to the 96% Rec. 709 color accuracy calibration. This coverage translates to accurate colors with minimal adjustment.
This versatile projector has a low-lag gaming mode, one of the few features that gamers care about the most.
The 16.4 ms input lag in Fast mode ensures a smooth gaming experience. Besides specialized low input lag, several unique game modes allow lightning-fast response time to match the fast-paced action.
Projection Size
It is big in projection size, reaching up to 300″. You have to keep it at a 2.5-meter distance to project a 100″ image, and it's best for the bedroom.
The projector has a praiseworthy, powerful 10-watt power speaker for enhanced audio.
Furthermore, it has multiple sound modes for different purposes; Cinema (Rich audio), Game (immersive range), Music (smooth balance), and Sports (crisp sound).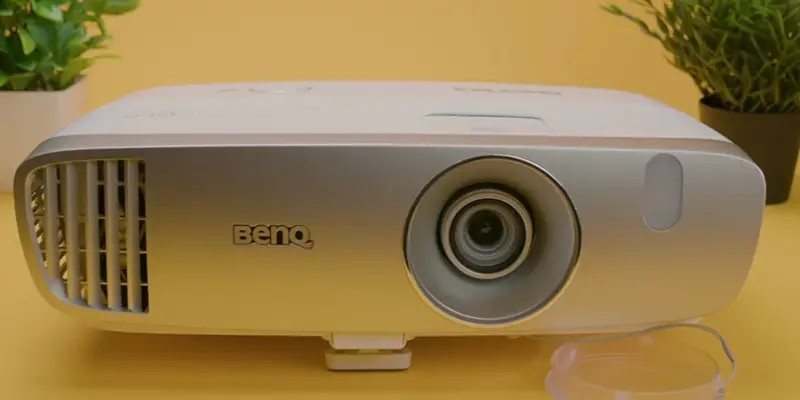 Image Adjustment
It has three key image adjustment features; 1.3x zoom, 2D keystone, and lens shift.
All these image alignment functions ensure mounting and placement flexibility by eliminating trapezoid effects so best to place it in the basement as well.
It has dual HDMI, USB, Audio IN/OUT, PC, RS-232, and other ports to support media players, gaming consoles, PCs, Macs, and mobile devices.
Limitations of BenQ HT2050A
Expensive Lamp Replacement – The lamp will last 3500 hours in Normal mode and 7000 hours in SmartEco mode. The lamp replacement cost is around $249.
One 3D Mode – Although the projector is 3D-capable, it does not offer remarkable performance and has only one 3D model.
Pros and Cons of BenQ HT2050A
Pros
Decent image resolution
RGBRGB color wheel and CinematicColor technology for outstanding color accuracy
Wall color correction
Low latency gaming mode
+/-10% vertical lens shift, 2D keystone, and 1.3x zoom
Huge projection size of 300″
3D compatibility
User-friendly with easy navigations
Wider connectivity with multiple input options
Cons
Not a short-throw design
Not fit for well-lit rooms
Should You Buy BenQ HT2050A?
BenQ HT2050A would not quite cut it if you are looking for a top-of-the-line, UltraHD, 4K capable projector. However, it does include several features that you would not find in other projectors with the same price tag.
Overall, it outperforms many $1000 home theater projectors and has a lot to offer in terms of performance. In short, it is a great pick for budget home theater.