Movie theaters are known for their grandeur and top-quality projection, only possible due to the commercial projectors.
The features and technologies used in cinema projectors are different from the regular models.
These projectors are gigantic with clear picture quality and higher brightness output.
Understandably, these projectors cost way more than consumer-grade projectors. Read on to know how much movie theater projectors cost.
How Much Does a Movie Theater Projector Cost?
Movie theaters use high-end projectors, therefore, they are pricier than projectors used for home theater or office.
Common projector brands like Epson, Optoma, BenQ, and ViewSonic do not manufacture these advanced devices.
Only a handful of brands are dedicated to manufacturing movie theater projectors.
A movie theater projector generally falls within the price range of $25000 to $200000 depending on the advanced technologies used.
They are also much more expensive than a normal projector because of crystal clear picture quality, high resolution of brightness, and large projection size.
If you want to know the average figure, investment in an old movie theater projector will cost more or less $110000.
This price varies depending on the type of movie theater projectors and the features required by the theater owner.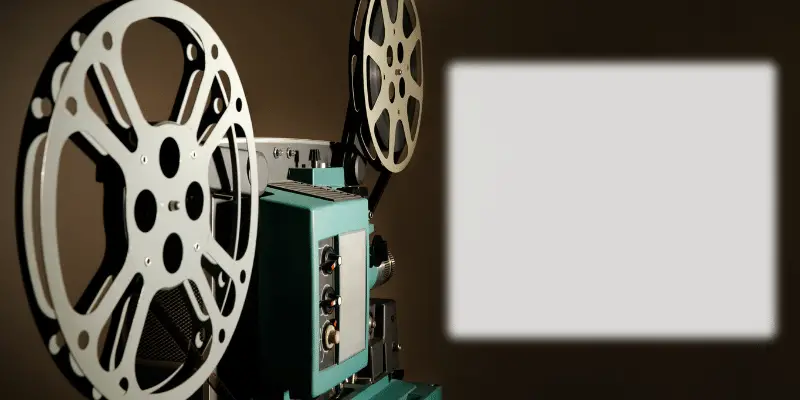 Types of Movie Theater Projector
It is foolish to consider a consumer-grade projector and a full-fledged movie theater projector the same. Only three types of projectors are used for commercial use.
Digital Cinema Projector
Digital projectors or DCP are designed to be high-res to give an eye-popping experience.
They do not only have top picture quality and create a lot less noise than other types.
They are considerably cheaper than other cinema projectors but require a lot of maintenance to keep the lenses and lamps in pristine condition.
A DCP projector may cost more or less than $50000, depending on the brightness and resolution, the prices will vary.
The cost of lamp replacement may cost around $700-$1000.
Xenon Projector
It is an absolute behemoth of the projector, not just in terms of size but also in price point.
The Xenon projector weighs around 2500 pounds, requiring a gigantic space for installation.
It is the most expensive of all cinema projector types that works by creating a high-intensity light source to produce a brighter image. It has a higher price tag reaching $200000 or more.
35mm Projector
35mm projector, a true gem, phased out in the late 90s, however, some theaters still use them today.
They are a lot less expensive and require little maintenance than the other two types.
The 35mm projector is usually sold at $25000 to $30000. They are not the sharpest projector and work by displaying frame by frame in front of a light source.
Maintenance Costs For Cinema Projectors
Besides the initial cost, these projectors require maintenance from time to time. The maintenance cost is also quite high as compared to regular projectors.
Lenses – It requires $2000 or more to buy a pair of lenses and the frame needed to project the image.
Lamps – The lamp cost differently for different types, $700 for a 35mm projector, $1000 for a digital projector, and $3000 for a Xenon projector.
Electric Motor – Initially, it may cost $10,000, however, these prices increase each year with the addition of advanced features and technologies.
Brands Manufacturing Movie Theatre Projectors
NEC, Christie, Barco, and InFocus are some of the popular brands that manufacture commercial-grade projectors for cinemas.
These brands integrate better picture quality and more features into these models.
Conclusion
The style, use, and type of a projector are responsible for the varying cost of projectors. Since cinema projectors are used at a commercial scale, they cost more than the ones used for home theaters.