Dolby Cinema vs IMAX – Which provides a better movie experience? Cinema-goers are having a hard time choosing between these two popular movie formats.
All critics agree that both formats provide the best movie experience. In a battle between Dolby Cinema and IMAX, the moviegoer is the winner who gets to watch movies in the highest quality.
Both formats appeal to cinema-goers with a premium movie-watching experience, surround sound, and stunning visuals.
In an IMAX vs Dolby Cinema showdown, it is quite difficult to estimate which format is superior.
Get the best cinema experience by seeing the comparison of Dolby Cinema vs IMAX and find out which one is better.
Dolby Cinema vs IMAX
Dolby Cinema and IMAX differ from each other in terms of image quality, aspect ratio, screen size, audio channels, and availability.
Both formats go beyond digital or standard projection to provide an immersive movie-watching experience.
Moreover, IMAX has larger screens and a 26% taller aspect ratio than Dolby Cinema.
Additionally, Dolby cinema has a higher image resolution and contrast ratio for impressive visual performance. Unlike IMAX, Dolby Cinema is less accessible and not available at many locations.
About Dolby Cinema
Dolby Laboratories, the brand behind Dolby Cinema, is known for creating impressive audio experiences for decades.
The brand has expanded its services to Dolby Vision and Dolby Cinema to provide a brilliant movie-watching experience.
It combines Dolby Atmos and Dolby Vision to enhance the theater's acoustic and image resolution.
The Dolby Cinema employs a 4K resolution, surround sound, 3D capabilities, and a powerful subwoofer for a top-of-the-line movie experience.
Dolby Vision's color reproduction is so commendable and accurate. Moreover, the seating arrangement provides a comfortable viewing environment.
About IMAX
IMAX has more name recognition as it has been around longer than Dolby Cinema. IMAX theaters are easily accessible and available in 1500 locations around the world.
The main difference between the IMAX and the regular movie theater is the screen size and the auditorium itself.
It has a larger screen format and a resolution that's nearly triple that of the typical movie theater.
IMAX theaters bring in big guns when it comes to sound. IMAX theaters have 64 speakers for maximum surround sound to immerse viewers in what they are watching.
Difference Between IMAX and Dolby Cinema
IMAX and Dolby Cinema are different from each other in several aspects. However, both formats are quite advanced and provide an immersive movie experience not possible with digital or standard formats.
Image Quality
In this battle of visuals, Dolby Cinema got a huge edge and displays up to four times higher resolution and 500 times higher contrast ratio than standard or digital format. Dolby Cinema wins this fight by projecting movies in 4K resolution and rich contrast.
IMAX gives Dolby Cinema a run for its money with its 2K resolution and exclusive laser projection technology.
Some IMAX theaters show movies in 4K resolution as well. That being said, it offers 3 times the resolution of standard or digital format.
Image Format
IMAX takes the lead here with an aspect ratio of 1.9:1, approximately 26% extra screen space than the Dolby Cinema. In contrast, Dolby Cinema displays movies with a 2.40:1 aspect ratio.
Screen Size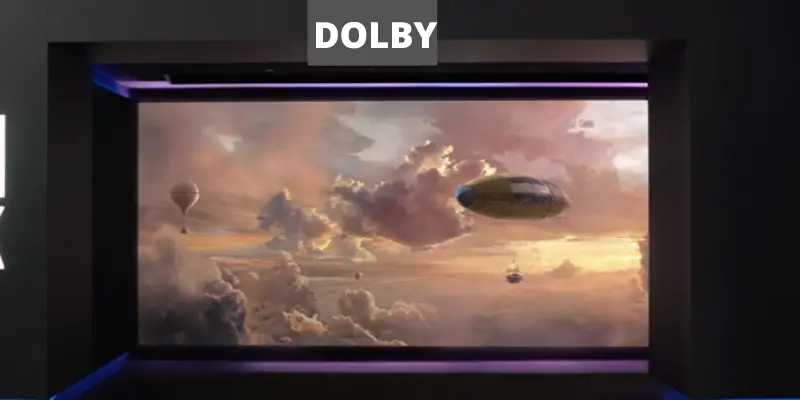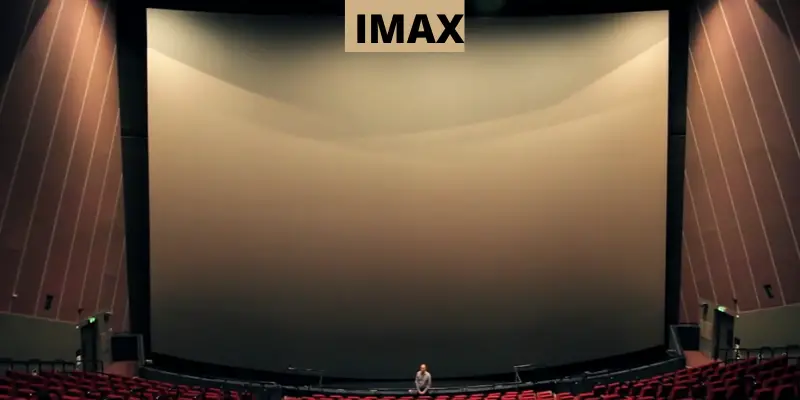 Here too, IMAX ups its game over Dolby Cinema with a gigantic screen format. The average screen size for an IMAX theater is 72 feet and it can go up to 117 feet long.
On the contrary, Dolby Cinema has a screen size ranging from 15 to 50 feet.
Audio
Dolby is an apparent winner with 64 audio channels, being a company that specializes in audio, it has a clear advantage here.
Dolby Atmos technology is quite impressive and provides an exceptional sound quality beyond experience.
Although Atmos is impressive on its own, Dolby has upgraded its audio game by installing transducers within the seats.
While the IMAX sound system features 12 audio channels, so the audio quality may not be as life-like as Dolby Cinema. However, IMAX theaters are not a loser in the sound department and can shake the room with booming speakers.
Dolby is acclaimed for their sound systems, and definitely one of the essential elements of the Dolby Cinema.
Although IMAX has a remarkable sound system, Dolby wins this round by a large margin.
Theater Setting


An enjoyable movie experience is incomplete without a comfortable seating arrangement, Dolby Cinema has taken this into consideration.
Dolby Cinema has top-of-the-line, premium class, plush, comfortable seats that allow you to recline and find the perfect viewing angle.
By comparison, IMAX seats are comfortable but do not recline, requiring you to adjust several times throughout the movie.
These seats are less spacious and tend to provide just a "good level of comfort".
2D vs 3D
Simply put, Dolby Cinema is not a great choice for watching a movie in 3D. It only offers 2D movies, on the other hand, go to an IMAX theater for a genuine, full-blown 3D movie-viewing experience.
Availability
IMAX is ruling the cinema world with more than 1500 theaters in 80 countries. IMAX has been operating for longer, therefore, more people are familiar with this theater chain.
As cutting-edge and tech-savvy as Dolby Cinema is, there are only a handful of Dolby Cinemas around the world. Unfortunately, there are currently only 127 Dolby Cinemas with 127 in the USA.
Ticket Price
IMAX tickets are kind of expensive when compared to a normal movie ticket. IMAX charges $20 for adults, however, seniors and children have to pay less.
Dolby Cinema tickets are slightly pricier ranging between $20-$25. The price of the ticket depends on where the theater location.
Read also: Dolby Cinema Vs XD
Dolby Cinema vs IMAX – Who Wins?
Here is the final verdict when IMAX and Dolby Cinema are stacked up against each other
Imagine Resolution – Dolby Cinema
Image Format – IMAX
Screen Size – IMAX
Audio – Dolby Cinema
Theater Setting – Dolby Cinema
Availability – IMAX
Ticket Price – IMAX
Related
Read also: Cinemark Vs AMC
Conclusion
Both formats give moviegoers a more fantastic movie-viewing experience than a regular theater.
From a micro perspective, Dolby Cinema is Brighter and offers a high-end cinematic experience as compared to IMAX. In reality, IMAX is more popular among cinephiles for its accessibility and overall high quality.
When it comes to visuals and audio, it is hard to beat Dolby Vision providing the best picture quality and Dolby Atmos is a cherry on top with better audio production.
Additionally, it offers reclining chairs with transducers for a comfortable movie-viewing experience.
On the other hand, more and more movies are being shot on IMAX cameras and the massive screen size allows for more screen details and an immersive experience.
Read also: Cinemark XD vs IMAX