There is nothing more special than taking your loved ones to a private movie screening. Unless you have a home theater setup, it is not easy to recreate a cinematic experience at home. If you and your family are film buffs, here is a smart solution, rent out a movie theater.
Many cinemagoers deem it to be expensive and want to know the exact cost of renting out a movie theater. It is a really unique venue to host parties, game nights, fun family functions, and corporate meetings.
Besides watching a film, movie theater rental can be used for several purposes to create unforgettable memories.
Renting a movie theater is surprisingly affordable, follow along to know all about movie theater room rental.
How Much is It to Rent Out a Movie Theater?
On average, movie theater rental may cost around $75 to $395 per hour. The cost of renting a movie theater on weekdays usually starts at $349 and on weekends starts at $399. You may have to pay an additional fee for any extra time needed.
In addition, some venues charge $99 to $149 for a maximum of 20 guests in low-cost areas. These rental rates vary depending on the location, movie selection, showtime, and food.
It is common for enthusiasts to book an entire venue for a private event. Movie theaters evoke nostalgia for happy memories and fun times of childhood.
Furthermore, many people rent out movie theaters for birthday parties, baby or bridal showers, fundraisers, corporate events, bachelor/bachelorette parties, production film screenings, and more.
How to Rent a Movie Theatre?
In the pre-internet era, it would not have been so easy to book a venue. It would have been time-consuming to locate each theater individually and contact them to ask for availability.
Luckily, that's not the case anymore, using search engines is the easiest and most straightforward way to locate movie theaters available for private screening. Go to theaters' websites and find contact and rental information conveniently.
Most theaters have easy online booking procedures for private rentals. The cost and process of movie theater rental may vary depending on what each chain offers.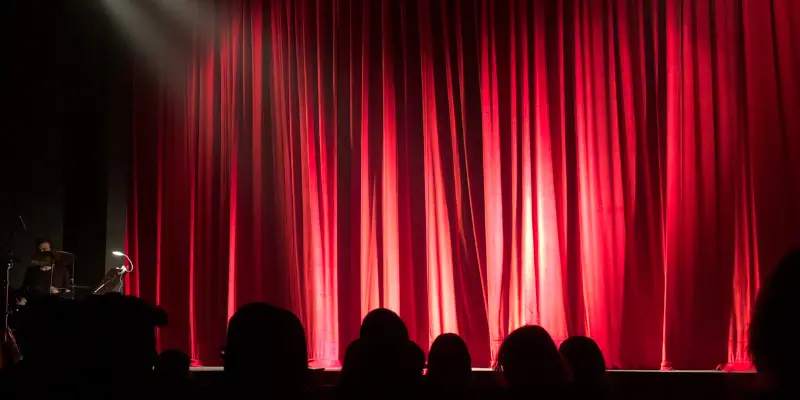 Popular Movie Theater Chains and Their Rental Cost
AMC, Regal, Cinemark, and nearly all popular chains allow private screening to enjoy the latest releases in a private setting. Reserve the movie theater for yourself and your group for birthday celebrations, reunions, or any social gathering.
Here's how much popular movie theater chains charge
AMC Theaters Rental
AMC Theaters is the leading cinema chain in the United States and Canada. Although it has thousands of screens spread across the United States, it only offers more than 550 of its locations for private theater rental.
Cost – For up to 1-60 guests, the cost of AMC private rentals varies between $150-$500. The said price will differ slightly depending on how recent the film is, location, showtime, food, beverages, and extra add-ons. All the guests must reach the venue 15 minutes ahead of showtime for the group ticket to be scanned.
Regal Private Theatre Rental
Regal cinemas allow movie fanatics to host private screenings at multiple locations. It is the second-largest movie theater chain in the US, first established in 1989.
Cost – It is a little more affordable than AMC theaters as the rental cost ranges between $150-$300 for up to 20 guests. Private screenings are not available after 3 pm on Fridays, Saturdays, or weekends during the busy seasons. The additional cost is charged for food, beverages, and extra time.
Cinemark Private Theater Rental
Since 1984, Cinemark has been serving movie-goers in hundreds of locations throughout the United States.
It is possible to book a new release for a special experience. Book in advance as the Cinemark does not offer same-day private theater rentals.
Cost – On average, the cost of Cinemark's private theater rental is $199 for accommodating up to 20 guests. Private watch parties for classic fan-favorite movies usually start at $99. Booking the latest release may cost more. Moreover, you may have to pay an additional fee for over 20 guests.
Alamo Private Watch Party
Alamo offers a private watch party by selecting from dozens of big-screen classics and new releases. Reserve a private theater 3-14 days in advance and reach the venue on time.
Cost – Renting your own private Alamo starts at $150, however, this rental cost does not include food, drinks, and tickets.
Why Should You Rent a Movie Theatre?
Movie theaters are associated with a special kind of childhood nostalgia. Dark lighting, comfortable chairs, and tasty snacks make the movie theater a magical place for any event or gathering.
Similarly, attendees gathering at the unique venue have the opportunity to make memories and pay undivided attention to whatever is being presented.
Versatility – Private movie theater rentals allow you to host diverse events. Be it birthdays, bridal showers, proposals, reunions, or social gatherings, host any event with your group of friends. Plus, corporate events, fundraisers, and team-building gatherings can also be held at a theater.
Space – Although the size of each theater room varies, it still would be larger than your living room with a big red curtain. A movie theater can be booked for 20 to over 100 guests, therefore, better suited for personal and professional events.
Immersive Cinematic Experience – Movie theaters have their own vibe and atmosphere. Booking a movie theater helps you remember trips to local movie theaters with your parents and relive your childhood memories. Moreover, it is fun to watch the action unfold on a larger-than-life screen.
Related Things to Do in a Movie Theater With Your Boyfriend
Factors Influencing The Cost of Movie Theatre Rentals
Location and neighborhoods
The scale of movie theater
Movie selection (classic or latest release)
Showtime
Weekdays or Weekends
Date, time, and length of the event
Food and additional add-ons
Number of guests
The size of the movie theater room
Conclusion
Hopefully, all your questions related to the private movie theater rentals are answered. Search 'private movie screening near me' and book the entire venue for a magical experience. Contact theater hosts directly for availability, pricing, event requirements, and other essential information.