Considering Porto projector? Wait for a minute, have you double-checked the reviews and information provided online? I bet you have but that's not enough.
You either have to test the projector or read an honest detailed review to judge whether the projector is suitable for you or not. Here's what I have to say about these projectors after thorough testing;
Porto Projector Features Review
No matter how much we claim that appearance does not matter, we still judge things by their appearance. Therefore, we would first judge the Porto projector by its appearance.
I and a lot of projector users have found the Porto projectors to be pretty good-looking. To be honest, I have noticed that the Porto projectors have unique designs than most of the well-known projector brands.
The rectangular packaging, clean corner angles, contrasting colors, and long strip vent are all proof of the Proto projector's uniqueness.
If I have to rate the Porto projectors' appearance, I would give these projectors 10/10. Therefore, if we only had to judge the projector by their appearance this brand would have given tough competition to all the well-known projector brands.
Image quality
The company claims that these Porto projectors project supernaturally bright and vibrant images.
The product description further suggests that the projectors offer rich contrast, deep black, and brighter whites. However, upon using the Porto projector I have judged that the image quality is not as impressive as the company claims to have. It is rather satisfactory than impressive.
These projectors require a 100% light-controlled room to project a satisfactory image. If there is a sufficient amount of ambient light, they form a dark and blurry image. That's the biggest flaw of these projectors.
Therefore If your concern is to get a projector with highly impressive image quality, this is not the right option for you.
The projectors are usually bought to have a bigger brighter image. Whenever we have to buy a projector it should mainly be judged by the image quality. Since this projector's image quality is not that impressive, I would not suggest you have it for professional purposes. All I can say is it's a fair deal only for small needs.
Sound quality
What I "really" like about these Proto projectors is that they come with built-in speakers. The sound produced by these projectors is quite satisfactory, you would not require an additional speaker to hear in a small to medium-sized room.
Other than that, the projectors have a special port for speakers. If ever in the projector's service life you have to connect an additional speaker, you can connect and improve the sound quality quite easily.
Size and weight
As you can judge the projector by images, the projectors are pretty small and lightweight. They do not require much space, you can use, store, and transport them without any hassle.
Lamp life
The Proto's lamp life is fortunately quite impressive. The projector's lamp is quite powerful, it can last up to 30,000 hours without demanding a replacement. If the projector is carefully used, the lamp would live longer.
Connectivity
Nowadays, projectors are used for several purposes. They are connected to several devices to meet their needs as well.
Most projectors support multiple connections, the Porto projectors are no exception. However, these projectors do not serve many connectivity options.
It has an HDMI, USB port, and TF card slot that are highly compatible with PS4 and computer TV boxes.
By judging the projector from its ports, it is concluded that these projectors can be connected to the iPhone, iPad, iMac, laptops, PC, game consoles, Roku, Amazon Fire stick, and Android devices. What's most disappointing about these projectors is that they have no built-in system. If you have to watch videos online, you have to use screen mirroring or cast features.
Usability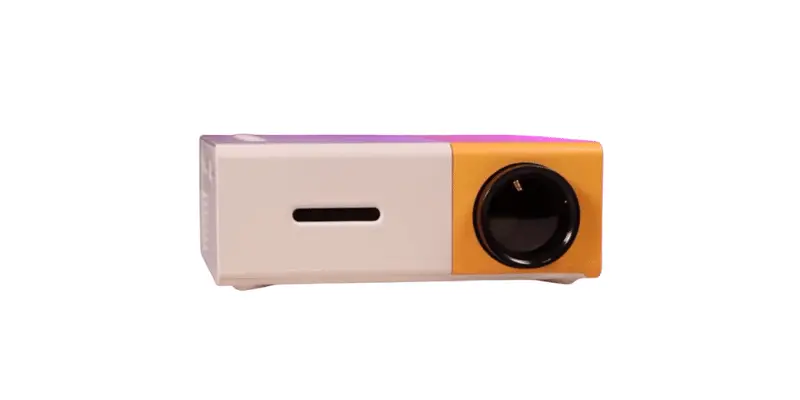 The company suggests these projectors be perfect for both professional and unprofessional purposes. However, I do not find it capable of serving professional needs.
For schools and offices, the projectors have to be super bright and must have satisfactory sound as well. Since the projectors neither have very impressive image quality nor sound, how would they serve professional needs? It is suitable for small needs; movies and games.
Price
Most projector users agree that Porto is an over-expensive brand. The prices are high but the image and sound quality are quite poor.
The listed price of these projectors is $133.99. However, on most platforms, it is being offered at the discounted price of $74.95.
If you are willing to spend this much amount on the projector, do not go for this brand. Amazon is bombarded with some pretty good options being offered at more or less the same price.
Conclusion
To be honest, I would not recommend you to purchase this projector if having a bright and vivid image is your concern. However, for people low on a budget, this is a fine option. There are some pretty good options, compare the Porto projector with some other projector having the same price and make a rational decision.