Jinhoo is a least-known yet reliable brand that deals in very few products. The brand manufactures and sells projectors and some projector-related devices; DVD players, projector screens, projector tripods, and projector bags.
Though the brand has some "really" amazing projector necessities, it got the fame from selling the projectors.
As the brand believes in quality, not quantity it has only launched three Jinhoo video projectors so far.
Jinhoo is a bit behind in marketing its products as well. Since the projectors have been launched but not introduced well, it has gotten really hard for most of us to know whether the projector is worth each penny or not?
To get the answer to the same question, I decided to put the Jinhoo projectors under the test and tell the world about their strengths and weaknesses of Jinhoo projectors. After using Jinhoo for about a month, here is what I have concluded;
Jinhoo Projector Review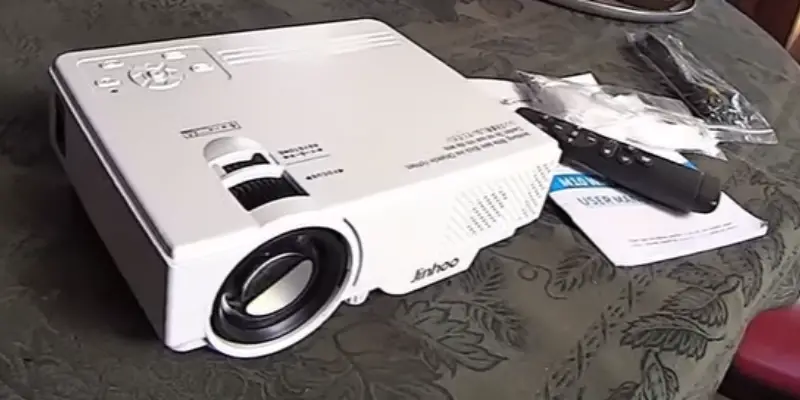 Appearance
As stated above, so far only three Jinhoo projectors have been introduced. All of these projectors have white color and have more or less the same "okay" designs.
Since the recently launched projectors of other brands come in sleek and stylish packaging, I must say this brand has failed to impress with its appearance.
If Jinhoo is planning to compete in the best-selling brands, the brand must have to focus on improving the designs.
Impressive brightness, contrast, and aspect ratio would not take the brand to its height.
To survive the competition and started being mentioned as the top brand, designs are required to be upgraded as well.
Picture quality
When it comes to picture quality, the Jinhoo projectors are not disappointing at all. Whether it's Jinhoo WiFi, Jinhoo mini overhead projector, or the Jinhoo 2021 upgraded mini video projector, the picture quality is pretty acceptable. All these Jinhoo projectors have 5000+ Lux and a 2000:1 contrast ratio.
All three Jinhoo projectors have a standard resolution; of 1920×1080 pixels.
The 1920×1080 pixels is now accepted as a standard format for home theatre projectors.
If not exceptional, this economical brand is at least serving us with an acceptable resolution.
Frankly, if you go on to find a 1920×1080 pixels projector at the same price, you will have a hard time finding one.
Here I would like to mention that the Jinhoo projectors have won my heart with the picture quality.
I have used projectors of almost all economical and expensive brands. Upon using the Jinhoo projector for the first time, I concluded that the Jinhoo projector is producing a pretty impressive image as compared to the projector for other brands having the same price.
Therefore, if you are not brand conscious and your concern is to own an economical projector with impressive image quality, Jinhoo is one fine option.
Sound quality
All three Jinhoo speakers are launched with in-built stereo speakers. The important details about the inbuilt stereo speaker have not been revealed by the company(they should have).
However, the inbuilt speaker produces enough sound to be heard clearly in a medium-sized room well.
Moreover, the projector allows external speakers as well. To fetch better sound, the external speakers can be connected via an HDMI cable.
Supported screen size
All Jinhoo projectors are capable of lightening up a standard-sized(100″) projector screen. What I have judged is that the manufacturer's main focus was to offer better image quality, the rest is neither impressive nor disappointing as well. For small to medium-sized needs, Jinhoo is an acceptable option.
Compatibility
Almost all the projectors available in the market serve a lot of options. The Jinhoo projectors are also not an exception, these projectors appear to be highly compatible with TVBox, PCs, TV Stick, laptops, tablets, USB flash drives, media players, and smartphones.
Supported input connections
Fortunately, these economical solutions to our projection needs come with multiple ports.
The projector that I used had HDMI, VGA, AV, and USB ports and upon researching it occur to me that the other two options support the same input connections as well.
Useability
These Jinhoo projectors project a pretty bright and vivid image. However, because they can only support a standard-sized screen, I declare the Jinhoo unsuitable for professional purposes. These projectors are well-suited for a little home theatre and games.
Price
Usually, the companies that spend lavishly on advertisement consider advertisement a relevant cost. Advertisement spikes up the price like no other relevant cost.
As soon as they add advertisement cost to the product's price, the price gets high. Jinhoo has not advertised the projectors well, therefore the prices of this brand are pretty economical.
Conclusion
In brief, Jinhoo is an affordable projector brand. The picture quality of this projector brand is pretty impressive, the projectors come with powerful inbuilt stereo speakers, support HDMI, VGA, and VA, and are perfect for gaming, movies, and non-professional use.
Read also: Cinemark Vs AMC