How big are movie theater posters? Since there are no standard poster sizes, most paper producers just stick to the international norms for printing movie posters.
Movie theater poster sizes are not regulated, so, this lack of standardization can lead to many people and moviegoers asking questions about the correct dimensions.
People have many questions about poster sizes, is there a standard poster size? How big should a movie theater poster be? There are a few standard poster sizes used worldwide that cut out a lot of guesswork in terms of poster dimensions.
How Big Are Movie Theatre Posters?
Though movie posters are not regulated in general, film industries in many countries do follow a standard poster size to be advertised within movie theaters or at bus stops.
These movie theater posters were first printed in different shapes and sizes from the 1910s through the 1980s.
For bigger, star-studded releases, a larger number of poster sizes were created and advertised.
The most commonly used movie theater poster sizes are 27×40 inches and 40×60 inches.
These standard sizes are used for advertisement purposes. Besides these poster sizes, many smaller and larger posters are also produced after buying the rights to the image to sell in retail stores.
Standard Movie Poster Sizes
As movie posters come in different sizes, here are some commonly printed movie poster sizes.
One-Sheet (27″ x 40″) – After the 1980s, One Sheet (27″x40″) was the only printed poster size for US releases.
Up until the 1980s, almost all movie theaters used One Sheet measured at 27×41 inches, the size was then reduced to 27×40 inches.
It is a common movie theater poster size hung outside or in the lobby of the theater.
These are the most commonly used dimensions of official movie posters distributed to the theatres.
The aspect ratio of One-Sheet is a bit more than 2:3, or a width of 67.5% of the height.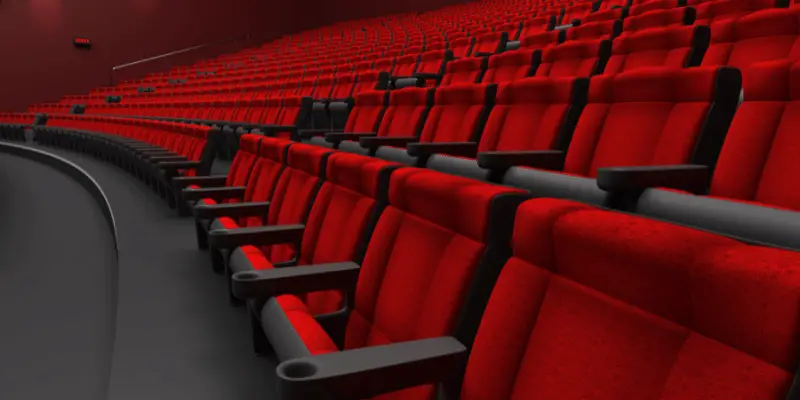 Printed on thin paper stock, these posters include a bold display of titles and credits with a glimpse of the film's storyline as well as star portraits.
These one-sheet posters are posted single or double-sided.
40″ x 60″ – This extra-large movie poster size is used to advertise at the bus and subway stops.
In simple terms, these 40″x60″ movie posters are larger copies of one-sheets to be displayed in large, crowded areas.
Printed on heavier paper stock, these are often sent rolled to the theater.
These sturdy posters are fit for outdoor situations, however, they are created in a limited number, certainly not as much as the one-sheet.
Are There Other Movie Theater Poster Sizes?
Though the aforementioned poster sizes are commonly used, there are several other poster sizes that do not fit these measurements.
Many other posters are produced in different shapes and for different purposes such as Half Sheet (22″ X 28″), Three-Sheet (41″ X 79″), Six-Sheet (81″ x 81″), 30″ X 40″, Inserts (14″ x 36″), Lobby Card (11″ x 14″), Window Card (14″ X 22″), Door Panels (20″ X 60″), Subway (54″ X 41″), and others.
There is no universal standard for poster dimensions, it can be designed and cut to any size as per the preference. However, for movie theater posters, only two sizes are used more frequently than the others.
Conclusion
To sum up, standardized movie poster dimensions are 27×40 inches (686×1016 mm) and 40×60 inches (1016×1524 mm). Mostly, these poster sizes are used for official advertisements.
Movie theater posters have evolved so much since 1910 when they were first printed. Movie theaters of many countries hung posters of the aforementioned dimensions.