B&W and Klipsch are both well-known brands. So you might have a difficult time choosing which one might have the best subwoofer for you.
Which one is better among the B&W vs. Klipsch battle?
With the capability of going much lower in terms of frequency response, B&W most of the time outperforms Klipsch. B&W subwoofers are known for their tight, accurate bass reproduction and build quality. Klipsch subwoofers, on the other hand, can produce dynamic and punchy bass in a more affordable price range. 
Having trouble making a decision? We have described a few more significant distinctions in detail for your convenience.
B&W vs Klipsch: A Short Overview
Let's begin by noting down the key differences between the two brands first. This will help us to get a good grasp of all the primary differences. We have put up a chart for you to help you understand better-
| | | |
| --- | --- | --- |
| Features | Bowers & Wilkins | Klipsch |
| Build Quality | Premium quality with attention to details | Modern & high-quality design |
| Affordability | High End & Expensive | Affordable to High-End Option |
| Connectivity Option | Stereo line in (RCA Phono)Speaker in (Binding post)3.5mm jack | Stereo RCA/LFE |
| Control Option | Volume level speaker-in, bass roll-off alignment, low-pass filter bypass,  and bass extension, along with the 4 controls of Klipsch | Gain, Standby Mode, Low-pass filter frequency, Phase switch |
| Resale Value | Drops a lot from the initial price | Doesn't drop that much |
| Performance | Can go much deeper bass up to 22hz in low frequency | Overall good but sometimes can be a bit harsh on ear  |
| Brand Reputation | Reputable Brand | Reputable |
| Popularity | Between Audiophiles | Between general Population |
As we can see B&W aces in several fields over Klipsch.
B&W vs Klipsch: A Detailed Comparison
With the overview you have an idea about what the brands have to offer. Let's get into more details for a better understanding-
Build Quality: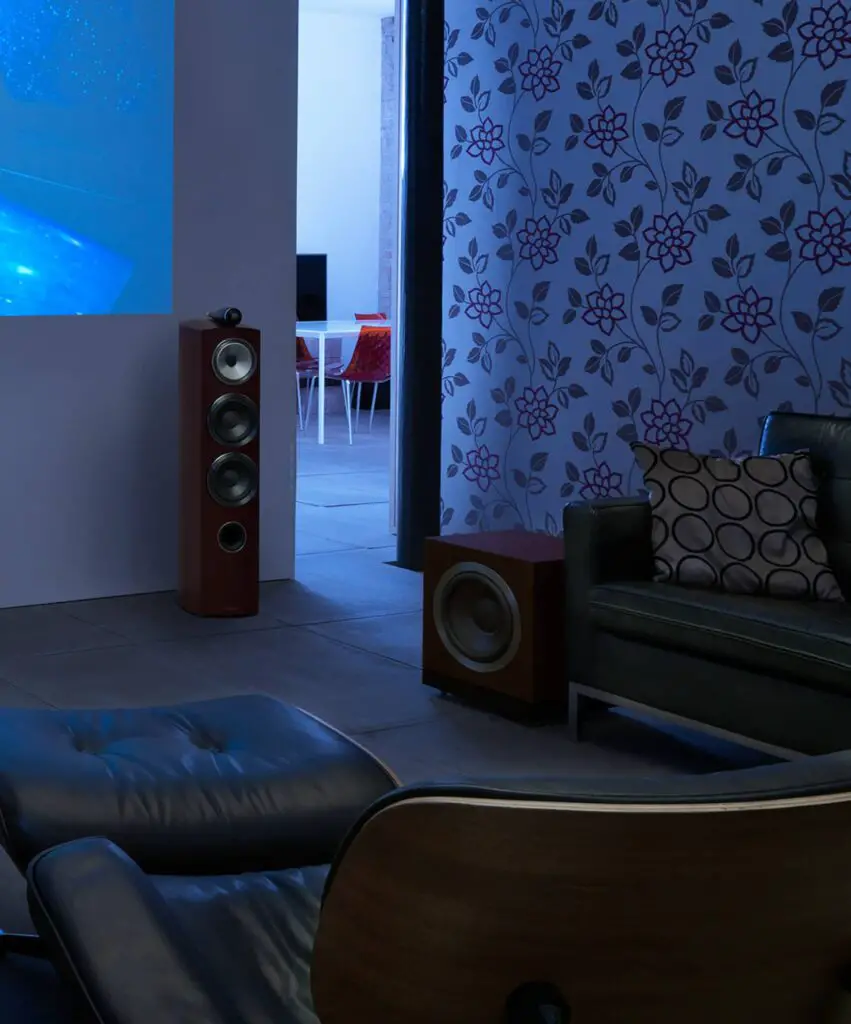 B&W subwoofers are more compact in size than Klipsch Subwoofers, allowing them to fit into smaller places. Moreover, being available in different colors lets them easily fit into your specific interior whether dark or light theme.
However, designed and built in the USA, the Klipsch subwoofer's signature copper and black design gives your home theater setup a sleek look. Moreover, the scratch-resistant body and spun copper cerametallic woofer minimize the port noise, giving the B & W subwoofers good competition.
Even then, the subwoofers of B & W  come at the top with their distortion-free bass and supreme build quality compared to Klipsch. Each subwoofer is designed with precision and long-term survivability in mind.
So, ultimately B & W subwoofer's build quality is better than Klipsch's.
Affordability: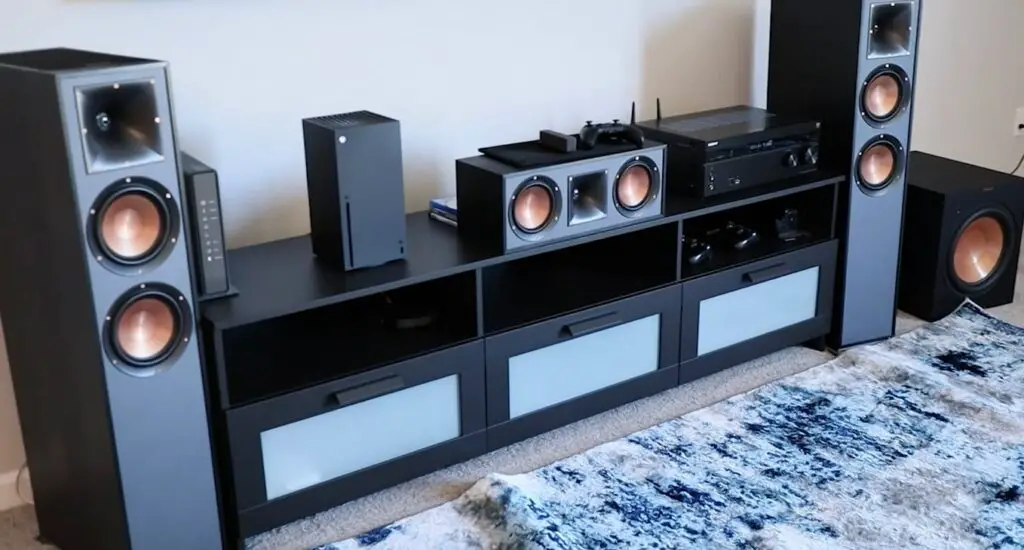 Klipsch offers subwoofers in the low, mid, and high range whereas most of the B&W subwoofers are in the higher price point. So, Klipsch is generally more affordable.
B & W subwoofers with a similar configuration to Klipsch subwoofers like frequency response or power output costs way more. For example, Klipsch R-100SW and B&W ASW608 subwoofer models have similar specifications.
But the B & W model will cost you around $ 600 whereas the Klipsch model will cost you only $200.
So, Klipsch is genuinely more affordable than the B & W brand.
Control Options: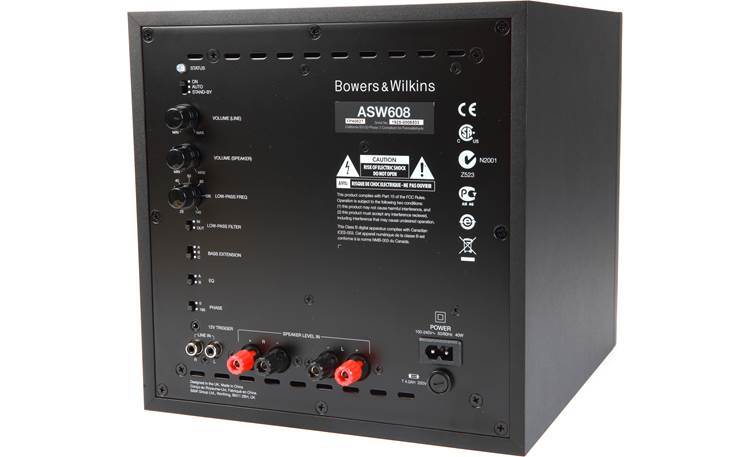 Both companies' subwoofers contain a low-pass frequency control and a gain knob. Phase switches and auto-on/standby are also present. But the B&W comes with additional control.
The B&W subwoofers have extra controls and settings for volume level speaker-in, bypassing the low-pass filter, aligning the bass roll-off, and extending the bass. 
Consequently, you have more control while using the B&W sub.
Connectivity Option:
Klipsch connectivity is quite limited whereas the B&W dominates this part with more options. 
Only RCA/LFE inputs are provided with the Klipsch Subwoofer. The B&W, on the other hand, features a 3.5mm jack, a speaker in binding posts, and a stereo line-in RCA.
The B&W offer extra alternatives for connecting the subs to soundbars, receiver, or speakers.
Resale Value:
Klipsch subwoofers have the highest resale value with only a 9-10 % drop from their initial price. B & W subwoofer's price on the other side usually drops around 15 to 20%.
This is one of the most important aspects to consider before investing in a subwoofer. Because even though you expect your subwoofer to last you a long time, it's quite common to upgrade the setup as well. But they should be in good condition for reselling. Because subwoofers with muffled sound issues or anything else are not marketable.
Klipsch subwoofers have a longer lifespan, which also makes them easier to sell. B & W are typically not the first choices for buying secondhand due to their higher price tag.
Although their resell price does drop a significant amount, it still remains too high for second-hand purchases. Because you might be able to get a brand new one in that price range with similar specifications. But as a buyer, it can be a positive aspect.
Performance:
B&W outperforms Klipsch with its capability of producing deeper bass than Klipsch. Sometimes Klipsch subwoofers can be too louder and harsher.
Frequency Response:
With the ability to go deeper with frequency response going as low as 22 Hz, B&W is the clear winner in this category. But both brands offer robust amps and drivers.
For instance, the B&W ASW608 has a class D amplifier capable of up to 200 watts while the Klipsch R-100SW has a digital amplifier capable of up to 300 watts. 
The Klipsch R-100SW can get louder and has better control and dynamics thanks to its more potent amplifier. Sometimes this can be too loud and harsher on the ear due to their horn design.
Nevertheless, the B&W AS608's class D amplifier has more than enough power to move its driver. The resulting bass is tighter and delivers more rumble thanks to its sealed box design.
Audio Quality:
Sealed box design of B&W helps the subwoofer perform better when playing music. Moreover, B&W's Dynamic EQ and Room EQ produce an immersive environment for watching movies, and TV shows, and listening to music. As a result, the details are crisper and more apparent.
On the other hand gunshots, rumbling engines, and helicopters can all be represented well with Klipsch subwoofers. However, with a low-frequency range of 24Hz, it can feel unimpressive amid the most powerful explosions or monster roars in movies.
So overall, the performance of B&W is better.
Brand Reputation:
Klipsch and B&W both have established themselves as trustable speakers brand in the industry. 
The Klipsch is an American corporation that has been in operation for 50 years. Their speakers and subwoofers only grew better over time.
Bowers & Wilkins, a UK-based company, has been around for more than 60 years. They are highly regarded by professional recording engineers for the exceptional precision of their sound reproduction.
In general, both brands have a very good reputation.
Popularity:
Because of their affordable price, Klipsch is popular with between general population. But audiophiles do tend to prefer B & W over Klipsch.
Among the Amazon home theater setup, the R-12SW  model of Klipsch has been in the number one position. Their price tag offers an option for people to try out varieties of subwoofers.
Bower & Wilkins subwoofers on the other hand do have a higher price tag but with justifiable performance. So, it is equally popular among audiophiles.
Versatility:
Compact size of B&W makes them more versatile than Klipsch. You can add extra bass to your setup without needing extra space for the subwoofer. Klipsch speakers are much larger in size.
B&W subwoofers are designed to fit aesthetically and unobtrusively into your surroundings, whether they are tucked away on a bookshelf or installed on stands.
For considerable bass support from Klipsch subwoofers, you will require the 10 or 12-inch models. Klipsch is available in smaller sizes also but lacks in performance in the smaller size.
Most Popular Subwoofer: Klipsch R-120SW Vs Bowers & Wilkins ASW608 
Here is a short comparison of features between these two brands' most popular subwoofer
| | | |
| --- | --- | --- |
| Features | Bowers & Wilkins ASW608  | Klipsch R-120SW  |
| Driver Size | 8'' | 12'' |
| Frequency Response | 32-140 hz | 29-120 hz |
| Power Output | 200 watts | 400 Watts |
| Dimensions | 10.2 x 10.2 x 13 inches | 16.5″ x 14″ x 19.2″ inches |
| Color | Black, White | Black |
| Price | $599 | $292 |
Which One Is Better: B & W vs Klipsch
The B&W subwoofers are the clear winner here. It has great performance, a wide range of connectivity and control choices, and a discreet, small design.
Additionally, B&W are sealed sub, making them a superb all-arounder that can provide terrific bass for both movies and music. However, its expensive price might be too much for most regular users.
For beginners and regular users, Klipsch subwoofers will be the best option. It still offers a good bass with minimal distortion and cone breakup. But if you are willing to spend those extra bucks, B&W  is the brand for you. 
Frequently Asked Questions (FAQs):
Is Klipsch Considered a High-end Brand?
Yes, Klipsch is one of the high-end speaker brands. This is also one of the oldest loudspeaker companies in the USA as well. Although they have both low and mid-category products in their collection. No matter the price tag you are guaranteed to get a speaker with a modern design and great build quality from Klipsch.
Can Low-Frequency Bass Damage Your Hearing?
Yes, low-frequency bass can damage your hearing. It is common knowledge that exposure to loud music for a long period of time damages people's hearing capability. But a recent study has been showing that low-frequency bass can also have a similar effect on people.
What subwoofer size is ideal for music?
The best subwoofers for music are 10″ . The 10″ can provide respectable bass while keeping up with fast-paced songs. They work well with heavier bass music like club music and are also ideal for fast-paced rap music.
Read also: RCA Home Theater Projector
End Words
That was all about B&W vs Klipsch brand comparison to picking the most compatible subwoofer. Both are very well-known subwoofer brands and made a name for their consistent quality in producing low-frequency audio.
Ultimately, it depends on you and how much you want to spend on your subwoofer setup. But we can assure you that regardless of the brand you pick you are guaranteed to have good quality subwoofer from them.
Until next time!
Read also: D-Box Vs IMAX