Aaxa P300 Pico projector is a highly portable device thanks to its size and the ability to run on batteries. The projector is undoubtedly small and lightweight enough to carry on outdoor adventures. Besides all, it offers a reasonably good image quality as well as brightness.
In many ways, it is similar to other mini projectors, offering a few exceptional features. However, portability is the main selling point as it can easily fit in a small or medium-sized purse.
That said, Pico projectors are not best known for their high resolution but this projector packs value and versatility in a compact size. If you are on the lookout for an ultra-portable projector, you would be delighted to know about the Aaxa P300.
Aaxa P300 Projector Review
Although portability gives it a distinct advantage, other key features include big projection size, bright enough picture, attractive design, and multiple connectivity ports.
Plus, you do not have to lug around a power plug as the built-in battery helps you use it on the go. It can be battery-powered and outlet-powered for optimal convenience.
Features of Aaxa P300 Projector
The WXGA 1280×800 native resolution along with DLP technology projects a clear and crisp image. In addition, it is capable of scaling resolution up to 1080p for displaying high-definition content.
Brightness & Contrast
Rated at 500 lumens, the projector has a pretty decent brightness for a pico projector.
Despite the 500 lumen rating, the actual brightness is more akin to 300 lumens, meant for a completely dark room setting.
Moreover, it has a 2000:1 contrast ratio to enhance the image quality significantly.
Ultra-portable
This pocket projector is ultra-portable, weighing less than 1 pound. Not only is it small in size but equipped with a rechargeable lithium-ion battery to use it on the move.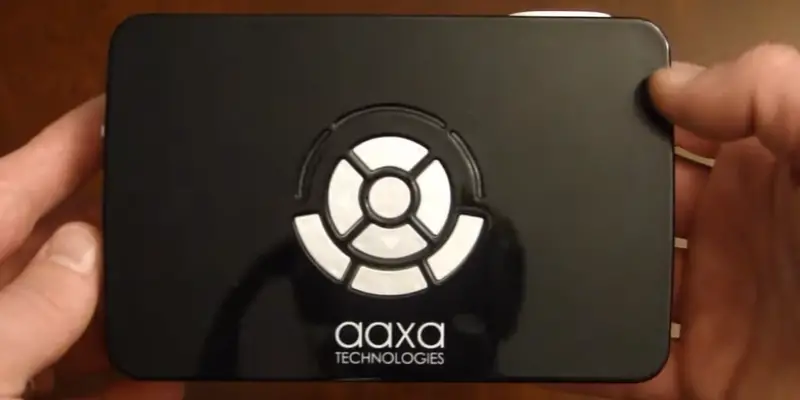 Onboard Media Player
Powered by an onboard media player, it is capable of showing videos, photos, movies, slideshow, presentations, text, and music directly from a USB flash drive or Micro SD Card.
Projection Size
The excellent turbo-charged optical engine delivers a whopping 120″ image. For the best viewing experience, the room must not have any ambient light.
It is truly a portable projector with a built-in lithium-ion battery. The battery is rechargeable and long-lasting with a runtime upwards of 60 minutes.
Additionally, this premium-grade battery is designed to retain 85% of its charge over 1000 charge cycles.
Light Source
The LED light source is efficient and brighter, letting the projector achieve full brightness within seconds.
Also, you will have a reduced cost of ownership as it lasts ten times longer. Unlike traditional lamps, it will last 20000 hours without frequent bulb replacement or maintenance.
It has plenty of ports including HDMI, Composite AV, Mini-VGA, USB, and microSD to connect multimedia devices. It also supports laptops, smartphones ( iPhone, iPad, Android ), Gaming consoles ( Xbox, PS4 ), Amazon Fire TV, or any HDMI-compatible devices.
Versatility
From kids to adults, it can entertain each member of the family for hours on end. Project cartoons, movies, or documentaries directly from a USB stick or Micro SD Card so its best projector for camping.
Moreover, this all-in-one system is also for business travelers. It conveniently fits in a purse, briefcase, or laptop bag.
Limitations
Low Audio – The in-built 2-watt speaker does not produce loud volume and is hardly audible, even from a few feet away.
No Zoom – Manufacturers have left out this key feature, therefore, the only way to adjust an image size is to physically move the projector.
Pros and Cons of Aaxa P300
Pros
Good native WXGA 1280×800 resolution
Highly portable with a palm-sized design
Battery-powered and outlet-powered
Capable of reading files from USB devices and memory cards.
Port versatility with multiple input options
Everlasting lamp with 20000 hours
Large projection size
Cons
Underpowered sound
Hard to get the focus
Not so easy to install a battery
Not bright enough
Should You Buy Aaxa P300 Projector?
If portability is not a requirement for you, then, you are better off with other options. Compared with other pico projectors, it competes well, however it does not come cheap.
The only reason why most people buy this projector is that they do not like being tied to a power outlet. When looking at the P300 as a whole, it has many benefits and drawbacks and is only suitable as a traveling companion.