Optoma GT 1080HDR is a short-throw projector, specifically designed for space-strapped users. It delivers the best gaming and movie-watching experience in varying degrees of ambient light.
It offers easy setup, mobility, reliability, and incredible performance at a surprisingly low price point and overall cost of ownership.
Designed for every home entertainment scenario, it contains many high-end features for a variety of use cases.
Taking a close look at the Optoma GT1080HDR review will help you understand its true worth. Similar to all projectors, it has many pros and cons that you should be aware of before making the purchase.
Optoma GT 1080HDR Review
This compact model is simple in design and can be installed permanently or taken on the move. Certainly, it is a step up from the average 1080p home theater projector in terms of performance and features.
Features of Optoma GT 1080HDR
Here are some good features of this projector.
Resolution
It provides a solid image with native 1080p resolution, high brightness, and deep contrast. As the name implies, it supports HDR (High Dynamic Range) for improving the picture quality significantly.
In addition, it can also accept 4K signals to play 4K content. 1080p resolution with 4K input projects an image with clarity, sharpness, and great depth.
Brightness
It offers an amply-bright performance in ambient light with 3800 lumens. At such a lumen rating, you get incredibly bright and clear images, even during daytime.
The high 50000:1 contrast ratio with deeper blacks enhances dark scenes. Moreover, it adds details and depth to the projected content.
Color Accuracy
Like other Optoma projectors, it also has stunning color performance with accurate sRGB colors and REC.709 color profile. From image settings, you can adjust colors to meet your needs.
If the room is small, it allows you to optimize the space in your living room by projecting a big image from a short distance. Again, it supports a large, 100-inch projection from a 1.1-meter distance.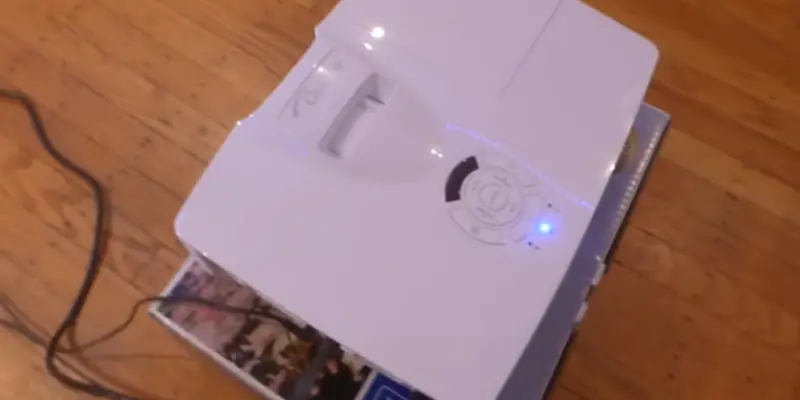 Enhanced Gaming Mode
Similar to other gaming projectors, it also focuses on the key features that gamers want. At 1080p 60HZ, the projector has an input lag of 16.4ms.
In enhanced gaming mode, it is rated 8.4ms at 1080p 120Hz, fast enough to keep up with the action and fast-paced games.
+/- 40° vertical keystone correction with digital zoom allows for a more flexible image setup, even when the projector is placed off-center.
Sound Quality
It features a 10W speaker to provide reliable sound performance. At 10W, it is fit for a quiet, small room. You will need an external sound system for larger gatherings.
It has an HDMI 1.4a input to support 3D content from nearly all 3D sources. The projector produces ultra-smooth 3D visuals with a 144Hz rapid refresh rate.
The input interface is equipped with 4K & 1080 HDR Input. HDMI 2.0, HDMI 1.4a, VGA, Audio in, USB-A, VGA out, Audio out, and RS-232.
Limitations of GT 1080HDR
No Horizontal Keystone Correction – It has a limited keystone correction functionality with no horizontal image adjustment. Also, it does not support lens shift.
Rainbow Effects – Since it is a DLP projector, you may encounter minor rainbow effects.
Pros and Cons of Optoma GT1080HDR
Pros
Native 1080p resolution with 4K input and HDR support
Ultra-bright with deep contrast
Projects large images in tight spaces
3D support
MHL connectivity
Lightning-fast response time for gaming
15000 hours of lamp life
Full-control remote control
Simple, energy-saving design
Eco+ technology for reducing power consumption and extending service lifespan
Cons
Average audio
No carrying case
Should You Buy Optoma GT 1080HDR?
Optoma GT1080HDR is one of the leading projection units in the mid-range under 1000 projector market. This versatile projector is a great fit for myriad use cases owing to the plethora of high-end features.
Gaming enthusiasts admire this projector for its low input lag and lightning-fast response time. 1080p resolution with 4K compatibility and HDR support produces solid image quality.
However, the DLP projection technology may disappoint users with rainbow artifacts.
Overall, it is a compelling offer that fits several use cases. Moreover, the compact model and simple design add to the appeal. Also, you can not go wrong with a short-throw projection which is a primary buying factor for many.