How to Get a Refund from AMC Theater? Got you booked at AMC theater and having a hard time managing time? It's normal for humans to make commitments and have difficulty fulfilling them. It's pretty normal to bear the loss for not being able to go with the plan.
Fortunately, the largest movie theater chain gives you a refund if you fail to pursue your plan. However, to get a refund you have to follow the suggested procedure a certain time before the screening. The refunding process is super simple, here is what you are required to do;
Table of Contents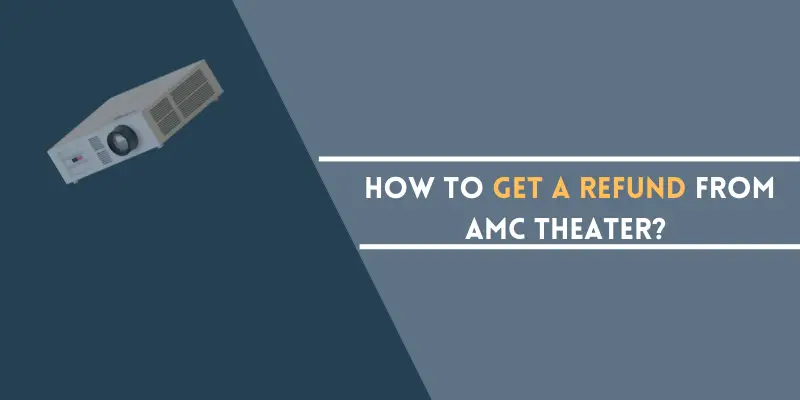 So, What Do You Need to Do to Get a Refund from AMC Theater?
Before explaining the refund procedure, I would like to inform you that the AMC movie tickets can be purchased online and in person. Similarly, the refund can be claimed online and in person. You should opt for whatever is feasible;
How to Request a Refund Online?
To request a refund online;
Go to the same AMC website you booked your seats from
Find and go to the AMC Stub account
Scroll down to the tickets section
Search for the request a refund option
Hit the request a refund option
Enter the order number
Enter your email or any other necessary information demanded
Search
Proceed to get done with the process
This process is a little time-consuming. However, it is effective in getting you the refund while sitting in the comfort of your home.
Related How to Find the Best Cinema Seats for Couples?
How to Request a Refund in Person? How to Get a Refund from AMC Theater?
If claiming a refund is more feasible in person, here's what you have to do;
Visit the AMC theater during working hours with the AMC movie tickets
Meet the relevant authority and serve the ticket
Discuss the reason for the refund
Request a refund
The relevant authority will take an action and a refund will be granted
As compared to serving the refund request online, this method is easiest. Moreover, it gets you the refund more quickly than the above-stated method.
These were the two most suggested ways of getting a refund. There is one more way that worked for a few people.
I'm not sure if this method is still effective or not. However, since this post is about ways of getting a refund. Therefore, it's important to discuss this a little as well. To get a refund this way you have to;
Go to a website called donotpay.com
Find and click the "chargeback instantly" option
Enter your bank details, name, and all other required information
Click "okay"
Your job is done. The rest of the procedure will be performed by the donotpay team and as per the claim you would be refunded.
What are the Terms and Conditions of the Refund? How to Get a Refund from AMC Theater?
The terms and conditions of the refund are just as simple as the refund. A person eligible for the refund can apply and get the refund.
The person that has not used the ticket and requests the refund at least 30 minutes before the screening is considered eligible in the eyes of AMC authorities.
Therefore, you would only be able to get a refund when the ticket is unused and you have appeared at least 30 minutes early.
Otherwise, your refund request will be invalid. You will either have to watch the movie or make peace with losing the money.
There is one more condition. If the refund request is placed online, the theater does not return the money instantly. You can have to wait half an hour to an hour to get the money back. For most people, it took an hour.
The request placed in person is however a different case. It usually gets you the refund instantly.
That's all, if you are eligible and have placed the request appropriately, the refund would surely be given.
FAQs: How to Get a Refund from AMC Theater?
Does AMC give you a refund?
AMC Theaters' refund policy may vary depending on factors such as the type of ticket purchase, the time of the refund request, and local regulations. Generally, they do offer refunds or exchanges for AMC tickets under certain conditions, such as cancellations or rescheduling of shows, but it's essential to check their specific refund policy or contact their customer service for accurate and up-to-date information.
Can you cancel a ticket from AMC?
Yes, in many cases, you can cancel a AMC tickets from AMC theaters, but the ability to do so may depend on the type of ticket, the timing of the cancellation, and AMC's specific policies.
AMC typically allows ticket cancellations and refunds if you request them well in advance of the showtime, but last-minute cancellations or refunds may be subject to restrictions. It's advisable to review AMC's cancellation policy and contact their customer service for guidance on canceling a specific movie ticket.
How do I cancel my AMC theater?
To cancel your AMC tickets, you should visit their website or mobile app if you purchased the ticket online. Log in to your AMC account, navigate to your ticket booking, and follow the provided cancellation instructions.
If you purchased the ticket in person at the theater, you would need to visit the theater's box office directly for assistance with canceling or refunding your ticket. Keep in mind that AMC's cancellation policies may vary, so it's a good idea to check their website or contact their customer service for specific guidance on canceling your ticket.
How do I send a message to AMC?
You can typically send a message to AMC by visiting their official website and using the "Contact Us" or "Customer Support" section. They may provide options for email or online forms to submit your message.
Alternatively, you can often find contact information such as phone numbers or email addresses for AMC's customer support on their website, and you can use those details to reach out directly with your inquiries or feedback.
Conclusion: How to Get a Refund from AMC Theater
In conclusion, obtaining a refund from AMC Theater can be a straightforward process if you follow their policies and guidelines. By understanding the specific conditions under which refunds are available and proactively reaching out through the provided channels, you can ensure a smooth refund experience for your movie tickets.
Read also: Cinemark Vs AMC