Whoever guided you to get your projector has advised you right. Purchasing a projector is much more affordable than bringing it on a rental basis every other day. However, purchasing one is also not that feasible as projectors are super expensive.
Purchasing a projector would be worth it when you need it frequently. If you have to use it once in a while, taking it on a rental basis is super budget-friendly.
All you need to do is find a place where more advanced projectors are offered on a rental basis and a little technical know-how to pick the best one.
At the time of making a rental contract, you will be overwhelmed with the number of options available.
Selecting the right projector from the options would also not be as easy as finding a diamond from the coals. It would not be hard either if you step in the games rightly guided.
Before stepping out to judge the projector, you need to sure about
The nature of the presentation
The size of the room
How dark or bright is the environment?
The number of people participating
Once you are sure about the nature of the presentation, the size and environment of the room, and the number of people participating, you are ready to hire a projector.
Factors to Consider Before renting a Projector
However, this would not be enough to move forward. Since you are here for help, here's what you further need to be careful with;
Size
Type and model
Brightness
Resolution
Connectivity
Portability
Rental charge
Size
The first thing that should be catching your attention is the "size". Projectors come in a lot of sizes, here you have to choose what suits your needs.
Most of the regular users prefer using a size that falls between 100-120 inches (2.5 to 3m) diagonal.
If you are not taking the projector for any extraordinary purposes, finding something between 100-120 inches would be fine.
Brightness
It matters because projectors are brought to display bigger, clearer, and brighter images. If the projector fails to display, bigger, clearer, and brighter image what's the use?
Fortunately, projectors come in a range of light output. The brightness of the projector can be judged by its lumens(the way of measuring the projector's light).
The projector can be 1500 lumens to 20,000 lumens.
The entry-level boardroom projector is usually 2500+ lumens, high brightness boardroom projector 4000+ lumens, conference projector 5000+ lumens, high brightness conference projector 7500+ lumens, and large venue or event projectors can be 10,000 to 20,000 lumens.
To determine what suits your need, it must be known why the projector is required, if the need is big or small, and how dark or open the place is.
Moreover, one must also be sure about the content to reach a decision.
If the projector is being hired for a movie or something, 3500 to 4000 lumens is perfect.
However, if the content to be displayed is formal, you have to hire a projector with impressive brightness.
Type and model
Like computers and every other such electronic device, the type and the model of a projector determine its efficiency and how long they last.
The projectors available in the market have three types; Cathode Ray Tube, Liquid Crystal Display, and Digital Light Processing.
Before heading out to hire a projector, you need to develop an understanding of projectors so the deal does not end up in utter disappointment.
Resolution
We all are familiar with the term "resolution". It's a clarity of text and images being displayed on a big or small screen.
This pretty much tells how important resolution is. So once the brightness issue is sorted, the resolution should be your concern.
The concept of resolution is also fairly simple, the higher the resolution the better.
Whether you are purchasing a new projector or planning to hire on a rental basis, you would be served with the following resolution options;
SVGA (800 x 600)
XGA (1024 x 786)
WXGA (1280 x 800)
SXGA+ (1400 x 1050)
UXGA (1600 x 1200)
Full HD 1080P (1920 x 1080)
WUXGA (1920 x 1200)
Generally, 1920 x 1080 pixels is chosen for the bedroom, basement, home, small churches, and offices. What must also be known is that XGA is the previous version.
If you want a more impressive image go for recent ones; WXGA, Full HD, or WUXGA, or any other Roku projector.
Lastly, while judging the projector with its resolution it must not be forgotten that spreadsheets and web pages demand higher resolution(even if the need is small). The other cases would however do fine in lower resolution.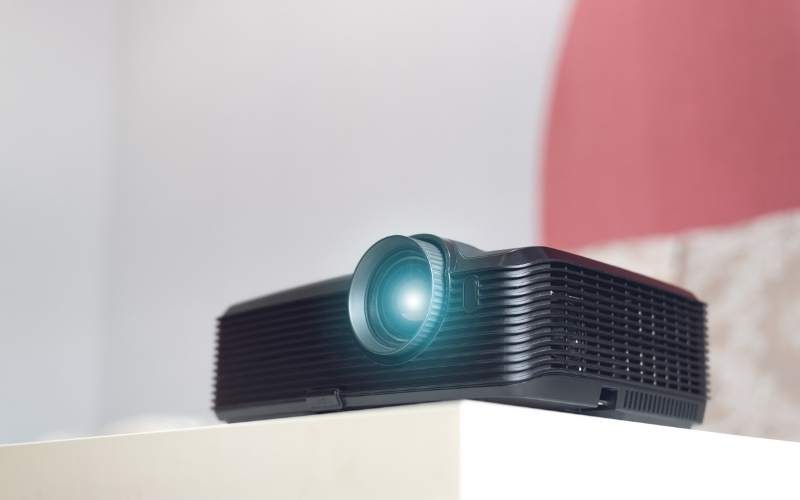 Connectivity
If you are not new to computers or the projector's world, you might have heard that projectors can be connected in many ways. At the time of sealing the deal you would be served with the following options;
SVHS
Composite
DVI
RGBHV
HDBaseT
HDMI
VGA
HDMI or VGA cables are the two most common and trusted ways.
HDMI is admired for offering video and audio signals in one cable whereas, the other option transmits video signals only.
If we compare HDMI and VGA, HDMI transfers data into higher resolutions and frame rates. VGA, on the other hand, offers lower but acceptable resolutions.
If HDMI or VGA is not available, hiring the relevant projector would be useless. So we suggest you check what's available and hire accordingly.
Portability
It must not be forgotten that you are hiring a projector to bring ease, not to add more complexity.
The portability of the projector must also be checked as the portable ones are not only easy to carry but easy to use as well.
Rental charge
You must get satisfied with the size, brightness, resolution, connectivity, and portability of the projector first.
Here, you have to judge the deal by its rental charge. It's super hard to tell what's the fair charge, however, we suggest you go around the market, compare the prices and quality and hire what is being offered at the lowest fare.
How to Find the Right Projector for Rent?
The projector hunt can be daunting. However, it can be made easy if you set a budget in advance and have a crystal clear image in mind. Step out only when you are sorted.
Once you are sorted, search online for the licensed retailers, pay a visit, check the options thoroughly, compare the prices, and find what is more feasible.
Bonus Information
Hiring a projector if you do not need it frequently is always a better idea, do you know why? It's a better idea because
You do not have to save every month to have enough money to get one for yourself
You can hire the most advanced projector at the cheapest fair in the hour of need
It's a cost-effective solution for the need
You can more advanced projector that you can not afford otherwise
You do have to make space for the storage
No reserve is required for the maintenance
You will be offered free help from the rental service
You have millions of options available
However, the other way, that is purchasing a projector, is equally rewarding. You might need some space to store and save for the maintenance but the reward(in the shape of a projector) will be available 24/7.
Conclusion
When you need a projector for a particular purpose, you can either purchase or hire it for a few hours. Hiring a projector is a cost-effective solution however, purchasing one would make it available 24/7.
Before heading out to sign a rental agreement you need to be sure about the nature of the presentation, the number of attendees, the environment, and the size of the room.
When it comes to a projector, you need to be careful with the size, type and model, brightness, resolution, connectivity, portability, and rental charge.
Lastly, we would suggest hiring a projector because it does not require maintenance, does not demand a storage space, and allows you to get the most advanced option at the cheapest fare.